---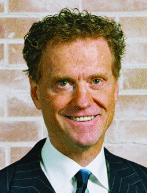 William (Bill) H. Comrie was born in Winnipeg, Manitoba and moved to Edmonton, Alberta, when he was two years old. At the age of 16, Bill signed a contract with Chicago Black Hawks and played for their junior farm team, the Moose Jaw Canucks. After the team folded, he came back to finish his hockey career with the Edmonton Oil Kings. The Edmonton Oilers Hockey Club signed both of Bill's older sons, Paul and Mike.
In 1968, at the age of 19, Mr. Comrie made a critical decision to end his hockey career and go into the furniture business and created what is now The Brick Warehouse Corporation. With sales of $1.3 billion annually, along with the 81 additional stores from the purchase of United Furniture Warehouse, The Brick has grown into the largest retailer of furniture, appliances, mattresses and electronics in Canada employing over 5,000 people. In August 2001, The Brick opened Home Show Canada, a new 112,000 square foot concept store with 57 manufacturers' showrooms, all under one roof, the atmosphere akin to a Home and Garden Show. Two full-sized homes are built inside the store. This concept was developed to showcase Home Show products in a setting customers would find familiar when shopping for items in their own homes. The Brick will open a second Home Show store in August 2004. On April 15, 2004, The Brick expanded into the Quebec market and opened six new stores in Montreal and area all on the same day. Opening this many stores in a new market in one day is a first for a North American retailer. After 34 years in business, The Brick Warehouse Corporation retail banners consists of a total 165 stores.
In 1995, the Board of Governors of Grant McEwan College presented Mr. Comrie with the Distinguished Citizen's Honorary Diploma in Business Administration. Mr. Comrie was honoured by being chosen for the 1994 Henry Singer Award for excellence in retailing in Canada. In 1993, Mr. Comrie was introduced into the Junior Achievement of Northern Alberta & Northwest Territories Business Hall of Fame. The Consumers' Choice Institute awarded Mr. Comrie with the 2002/03 Businessman of the Year. In November 2002, and again in 2003, The Brick was listed as one of "Canada's 50 Best Managed Companies". Alberta Venture Magazine awarded Mr. Comrie, Businessman of the Year, in January 2004. Also in June 2004, Mr. Comrie will receive an Honorary Degree of Doctor of Laws from the University of Alberta.
In the past, Mr. Comrie has been a member of the Board of Directors of the Edmonton Eskimos Football Club and the Board of Directors for Nova Corporation of Alberta. As well, Mr. Comrie was a member of the Young Presidents' Organization. Presently, Mr. Comrie is a member of Alberta Cardiac Institution Strategy Council and the Edmonton Police Foundation. He also sits on the Board for Jr. Achievement.
Mr. Comrie is also deeply involved in charity work. In 1997, he agreed to chair the capital campaign for the Stollery Children's Hospital Foundation to build a state-of-the-art facility in Edmonton. This would be one of the most aggressive projects he had ever undertaken. The foundation committed itself to raise $6 million. Mr. Comrie and his campaign cabinet raised over $10 million to ensure the very best health care resources were available for countless children in Alberta and Western Canada. Mr. Comrie accepted an invitation to Chair the capital campaign for a world-class heart institute located in Edmonton and serving patients from across the province and western Canada. The Alberta Heart Institute will become Canada's leading heart centre. The goal for this campaign was to raise over $17 million and the campaign will finish in June 2004 raising over $30 million.
Every summer, the Brick hosts an Annual Super Novice Hockey Tournament. This tournament has become the talk of North America. Teams from as far away as Connecticut, Boston, Detroit and Los Angeles participate. Young athletes selected for this tournament and their families will forever remember the excitement, rewards, gifts and friendships, which resulted from their participation. Every year, the Super Novice Hockey Tournament makes a major contribution to Sports Central, a charitable organization in Edmonton, which provides sporting equipment for children who are less fortunate. Due to our continuous support, this year Sports Central became The Brick Sports Central.
Throughout the years, Mr. Comrie has proven to be an astute businessman, devoted sports fan and participant. Mr. Comrie took over a bankrupt British Columbia (B.C.) Lions Professional Football team from the Canadian Football League with a 3 – 15 record, averaging 14,000 fans per game. The Lions made the playoffs the first year and during the second year improved attendance to over 27,000 per game. That year, the B.C. Lions won their three playoff games in the last play of each game including the Grey Cup, the first Canada/USA contest in front of a sell out crowd of 59,000 B.C. Lion fans in B.C. Place. Mr. Comrie sold the B.C. Lions in March of 1996.
Mr. Comrie also owned the San Diego Gulls of the International Hockey League from 1993 to 1995.
Mr. William Comrie has four sons, Ty, Eric, Mike and Paul, and a daughter Cathy and is married to Roxanne.